Manchester United takeover: Sir Jim Ratcliffe officially enters bidding to buy Premier League club | Football News
Sir Jim Ratcliffe's company INEOS has officially entered the bidding to buy Manchester United.
Sky Sports News has confirmed a story first published by The Times that Ratcliffe, one of Britain's richest men, wants to complete the purchase of the Premier League giants.
The Glazer family, United's current owners, announced in November they are willing to listen to offers for the club after a 17-year reign dominated by fan protests and declining on-pitch performance.
INEOS, Ratcliffe's chemical firm, announced it had formally lodged interest with the Glazers.
"We have formally put ourselves into the process," a spokesperson said.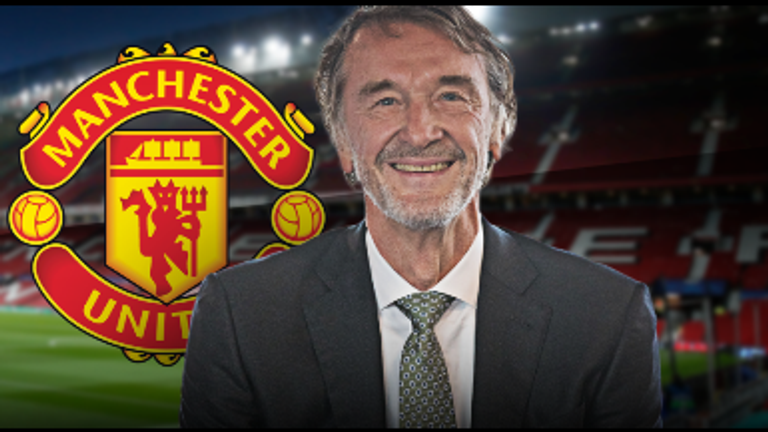 Ratcliffe has made no secret of the fact he would be interested in buying United. He supported them as a boy and is understood to remain a fan.
The 70-year-old billionaire was among bidders for Chelsea when their ownership came up for grabs after the start of Russia's war in Ukraine.
His offer, of £4.25bn, was rejected under the sale process ordered by the Government when Roman Abramovich was sanctioned for his links to Vladimir Putin's regime in Moscow.

Wednesday 18th January 7:30pm


Kick off 8:00pm

Ratcliffe is no stranger to big sporting investments. He also owns cycling team INEOS Grenadiers, Ligue 1 side Nice, who he took over in 2019, and FC Lausanne-Sport, a Swiss Super League club.
As well as Ratcliffe, Saudia Arabia sports minister Prince Abdulaziz bin Turki Al-Faisal has previously confirmed his country's intentions of taking over United – valued at around £5bn. Technology giant Apple has been another reported interested party.
United are live on Sky Sports Premier League and Main Event this Wednesday when they travel to Crystal Palace. Coverage begins at 7.30pm with kick-off at 8pm.
Saudi Arabia's sports minister, Prince Abdulaziz bin Turki Al-Faisal, told Sky News in November his country's investors want to take over Manchester United and Liverpool

'Ratcliffe has always been interested in Man Utd'
Sky Sports News chief reporter Kaveh Solhekol:
"Sir Jim Ratcliffe is one of the richest men in the UK.
"He has tried in the past to buy Chelsea. He was unsuccessful with a late bid to buy Chelsea.
"When it was suggested that Man Utd were looking for investors, maybe a new owner, he has made no secret of the fact that he wants to buy Manchester United.
"He also owns Nice in France. He owns the Swiss team Lausanne and INEOS the cycling team. He's got a stake in Mercedes F1 team.
"So, he's got a lot of interest in sport, and he grew up as a Man Utd fan. He's always said that he'd like to buy United."
Neville: Manifesto key for new Man Utd owners
Speaking after the Glazers announced they were open to selling United, Sky Sports pundit Gary Neville said any potential new owners must communicate their plans to supporters.
"I think what Manchester United fans need to see is a manifesto from the new owners," Neville said in an interview with Sky Sports News senior reporter Melissa Reddy.
"Manchester United can't be handing over to an owner that basically screams against what the club stands for or what the club wants. So there are manifesto pledges that I think are really important – like the fan voice, the fan experience, and maybe even positions for fans on the board.
Speaking in November, Gary Neville said he wishes he had spoken out against the Glazers sooner and urges any potential new owners of Manchester United to communicate their plans with supporters

"But the sporting project needs to improve. What is it going to be? Are the new owners not going to take dividends? Are they going to make sure it's a debt-free football club and that they're re-investing? Maybe there's a new stadium that needs to be built or a new training ground.
"These are pledges I can think of off the top of my head that are really important for anybody bidding for Manchester United. It's a manifesto that needs to be put forward so that the fans can understand.
"There are going to be many bids in the many billions and I think if the Glazers want to exit in the right way, it would be to sell it to a party that isn't only the highest bidder, but if they can get parties near the end to get to a figure they like, then it would be very nice for them to put something forward to the season-ticket holders.
"Because the reality of it is, if the Glazers want to do this right, they have to make sure the club is going to a party whereby the fans don't believe they're being lumped with another owner they don't like."
A timeline of the Glazers' Man Utd reign
With the Glazers' ownership of Manchester United potentially coming to an end, here's a look at the timeline of their controversial reign…
March 2003 – The Glazers, fronted by Malcolm, buy a 2.9 per cent stake in Manchester United after a £9m investment, which increased later in the year.
May 2005 – After steadily increasing their stake in the club, the Glazers make a formal takeover bid which is accepted.
June 2005 – Now owning 98 per cent of shares, the Glazers formally own United, loading £525m of debt onto the club.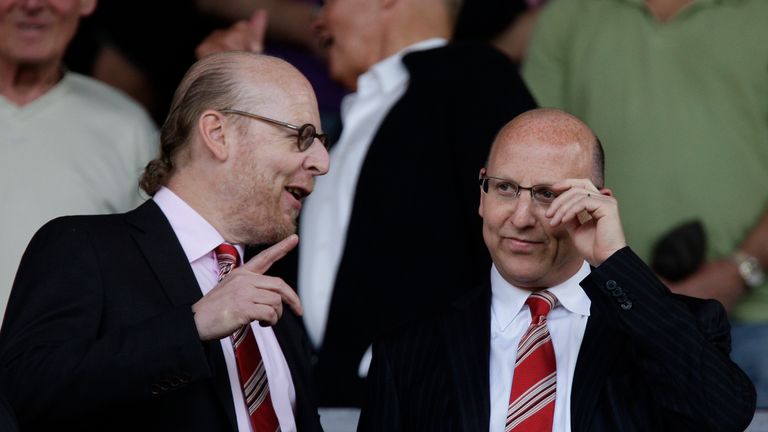 May 2006 – The first signs of unrest among the fans are seen, with 'Love United Hate Glazer' banners appearing at Old Trafford.
May 2010 – After the Glazers operated the club with huge debt, hundreds of United fans – wearing yellow and green – protest at the ownership before the final game of the 2009/10 season.
August 2012 – Manchester United are listed on the New York Stock Exchange, with the Glazer family making profit from selling a portion of their shares.
May 2014 – Malcolm Glazer dies, but the operating of the club is not affected.
April 2021 – Joel Glazer is revealed as one of the main players behind the plans for the ill-fated Super League, which caused huge outrage among fans, politicians and even the Royal family. Fans break into the club's training ground later that month to protest.
May 2021 – Up to 10,000 United fans break into Old Trafford amid a vociferous protest against the owners which led to the Premier League game with Liverpool being called off. Criminal damage occurred and six police officers were injured.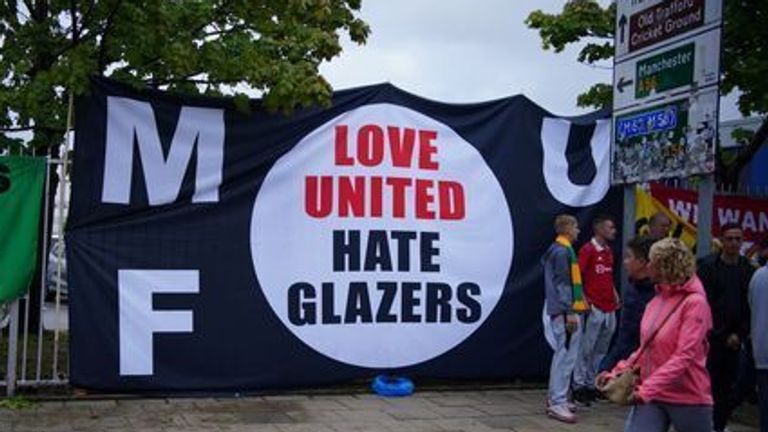 August 18, 2022 – British billionaire Sir Jim Ratcliffe reveals he would be interested in buying Manchester United if the Premier League club was for sale.
August 22, 2022 – A more peaceful protest took place ahead of United's fixture with Liverpool, with thousands of fans marching from the city centre to the stadium ahead of a 2-1 win.
November 22, 2022 – The Glazer family announce they are "exploring strategic alternatives" including a sale of the club.
January 17, 2023 – Ratcliffe's firm INEOS officially enters the bidding to buy Manchester United.
Source link